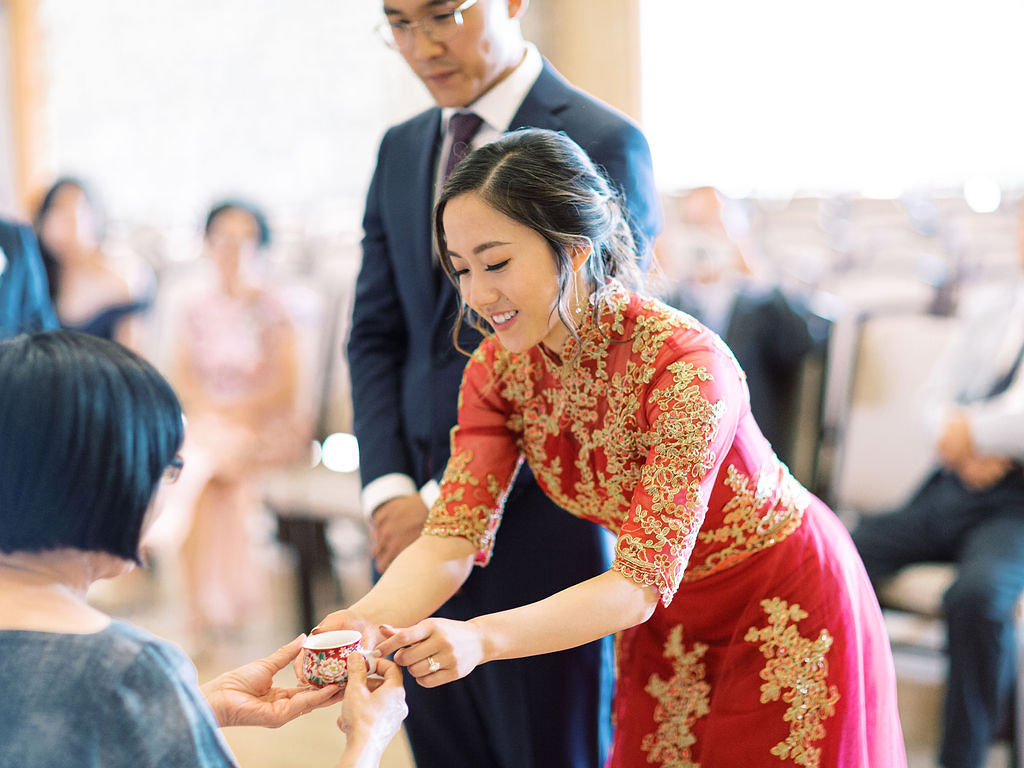 What is a tea ceremony?
A tradition for most Chinese weddings, the tea ceremony represents the formal introduction of the couple to their respective families and demonstrates respect to their elders for all the years of love and support. It's a beautiful way to pay homage to one's heritage!
When is the tea ceremony?
Most of the couples I work with choose to have the tea ceremony for both families at the wedding venue, prior to the dinner reception. This option works well for relatives who may not be able to make it early in the morning, and it also allows the couple to have more time for themselves in the morning!
What is involved?
Traditionally, tea is served to the groom's family using a tea set in the bride's dowry that has been passed down throughout the generations. When serving the tea, the couple either kneel or bow – whichever the families feel is sufficient.

Sweet tea is served because it symbolizes happiness in marriage, and fosters good relations with the new in-laws. Herbs such as lotus seeds and red dates are often added to the tea because the Chinese pronunciations are synonymous to blessing the couple with fertility.
Red pockets and gold jewellery are often gifted on a tea tray and worn during the ceremony.

Who is involved?
Starting with the paternal side, elders are served in order of seniority. The groom's sister or a female relative will often help pour and serve the tea.
Ceremony order
1- Grandparents
2- Parents
3- Uncles / Aunties (in order of seniority)
4- Elder Siblings
5- Elder Cousins (if present)
6- Younger Siblings
7- Nieces and Nephews (if present)
Much like a Western wedding ceremony, the groom is on the right side and the bride on the left. Female relatives are seated across from the groom, while male relatives are seated in front of the bride.
Meaningful Motifs
Decor for a tea ceremony is usually quite modest but will often include the symbol for Double Happiness (囍), phoenix and dragon motifs, or illustrations of the Chinese marriage gods. Gold and red are of course, the colours of choice because they symbolize happiness, wealth, and prosperity – all good things at the start of a marriage!
Elevate the Experience
Though the tea ceremony is usually an intimate family celebration, you may certainly extend the invite to all your wedding guests. If doing so, make sure to have a translator for the service, or prepare wedding programs that explain the tea ceremony traditions.
For the ultimate wow factor, consider entertainment such as lion dancers or Chinese firecrackers to end the evening!
Are you considering a tea ceremony for your wedding? Comment below, I'd love to hear your thoughts about incorporating traditions from your Chinese heritage!
Chinese Wedding Tea Ceremony: Everything You Need to Know
Share: